Our Fall General Meeting is open to the public!
Thursday October 5th, 7:30pm at the Moorestown Community House. Our speaker will be Richard J. Connors, Ph.D author of the new book, New Jersey and the Great War: 1914-1919(Dorrance Publishing, 2017). Dr. Connors will discuss New Jersey's role in World War I and the war's impact locally, nationally, and internationally. He will also explain how the war influenced world events that followed.
"With this insightful analysis, Richard J. Connors, Ph.D. commemorates the contribution of the State of New Jersey and its citizens on the centennial anniversary of World War I. Because of its coastal location and much-needed industry, New Jersey played a significant role both prior to and during America's declared involvement. Historical detail brings to life pre-war America and the daily lives of those who would sacrifice so much. From immigration to industry and infrastructure, we see the factors that contributed to the war effort. Well before America's formal entry to the war, supplies and volunteers to European forces shaped public perception and involvement and laid the groundwork. Once war was declared, the bulk of New Jersey's National Guard units, draftees, and volunteers served in two US Army Divisions, the 29th and the 78th; their roles in particular are meticulously researched. New Jersey and the Great War offers a fresh look at the background and aftermath of the state uniquely poised in its preparation for world-wide war." (New Jersey and the Great War: 1914-1919)
Dr. Connors received his undergraduate degree at Seton Hall and his graduate degrees from Columbia University. Major works include: The Process of Constitutional Revision in New Jersey, 1940-1947, The Government of New Jersey (written with William Dunham), and The New Jersey Constitution of 1776. Dr. Connors has contributed articles to The Encyclopedia of New Jersey, The Governors of New Jersey, and The Dictionary of American Biography, among other publications. An Army veteran, in 1947 Dr. Connors was an officer in the U.S. Army Corps of Engineers with the Army of Occupation on Okinawa. He also served in Korea from 1951-1952. He currently resides in Neptune City, New Jersey.
Our meeting is free and open to the public. Refreshments will be served. Please join us!
---
The following event has already occurred.
Speaker Series May 10th 7pm at Moorestown Library
As part of its ongoing NJ History Speaker Series, The Historical Society of Moorestown in conjunction with the Moorestown Library presents Professor Jim Gigantino II (via SKYPE!) who will discuss his book "The Ragged Road to Abolition: Slavery and Freedom in NJ 1775-1865."
Despite what many Americans may think, the issue of slavery in the Antebellum Period was not neatly divided along the Mason-Dixon line. Professor Gigantino will trace New Jersey's efforts to abolish slavery within the state – a plodding process that turned the notion of "free state" on its head and allowed slavery to persist in New Jersey until the end of the Civil War. Event attendees will gain a deeper understanding of the political complexities of the Civil War and the role New Jersey played.
Professor Jim Gigantino II is the Associate Chair and Director of Graduate Studies in the Department of History at the J. William Fulbright College of Arts & Sciences, University of Arkansas. He is an Early American historian who specializes in the history of slavery and was awarded the 2015 Robert P. McCormick Prize by the New Jersey Historical Commission and the 2015 New Jersey Studies Academic Alliance Authors Award for his book, The Ragged Road to Abolition, Slavery and Freedom in New Jersey, 1775-1865.
Read about the book here.
This talk is open to the public and is free, please join us!
---
Annual Meeting, April 6th, 7:30pm at the Community House
Local historian, author, and president of the Lake Hopatcong Historical Museum, Martin Kane, will discuss armaments inventor Hudson Maxim at our Annual Meeting at the Community House on Thursday, April 6 at 7:30 p.m.
On this date, the 100th anniversary of America's entry into World War One, Mr. Kane will speak about Hudson Maxim, a New Jersey innovator who held a patent for smokeless gunpowder, invented a variety of high explosives, and designed a torpedo-proof ship. The inventor advocated for a national armaments movement prior to U.S. entry into WWI, and was an early and ardent supporter of women's rights.
The speaker, Martin Kane, is proud of his work modernizing and expanding the Lake Hopatcong Historical Museum. Mr. Kane has also been involved with the awarding of scholarships at his alma mater, Seward Park High School. In the past, he was an attorney and manager at Picatinny Arsenal in the New Jersey Highlands.
This event is free and open to everyone!
---
March 15th at Moorestown Library
The next talk in our Speaker Series, Land Deeds and the Illumination of State, Local, and Family History, will be given by Joseph Grabas author of Owning New Jersey: Historic Tales of War, Property Disputes, and the Pursuit of Happiness. Mr. Grabas will discuss how people of different backgrounds fought to claim their piece of the Garden State. He also will share the bizarre and mysterious stories that emerge from NJ's property records. Finally, he will discuss how property records can reveal a great deal about family history and are an excellent source for genealogists. This event, which will take place on March 15th at the Moorestown Library, is free and open to the public. Please join us!
---
To read about the talk, "New Jersey's Multiple Municipal Madness" given by Michael DiCamillo, please click here.
---
The following event has already occurred.
Our next event is January 18th at 7pm at the Moorestown Library when Vice-President of the Historical Society, Michael DiCamillo, will discuss
New Jersey's Multiple Municipal Madness
, a book written by Alan Karcher, a former Speaker of the New Jersey General Assembly.
New Jersey has 566 municipalities. In contrast, California has 482. Why does New Jersey have so many independent towns and subsequently so many municipal governments? Michael DiCamillo, who has taught history at LaSalle University and has served as reference and research librarian at the University of Pennsylvania, will discuss Alan Karcher's book which details how and why New Jersey divided itself … then divided itself again … and again to accommodate a variety of differences among New Jersey neighbors. Included in the discussion will be the case of Chester Township which was sliced and diced to form Riverside, Riverton, Palmyra, Delran, Maple Shade, Cinnaminson, and Moorestown. Historic maps will be on display to help everyone visualize the boundaries that currently and formerly divided the state.
Please join us at the Moorestown Library, Meeting Room A, on January 18th at 7 pm for this talk.
---
We hope you didn't miss these Past Events:
You're Invited!
Come and enjoy Smith-Cadbury Mansion decorated for the holidays, delectable sweet and savory treats, refreshing libations, and view our new exhibit, History Rocks! at our Annual Holiday and Volunteer Appreciation Party.
Free & open to the public!
---
We hope you didn't miss these Past Events:
The second season of our New Jersey History Speaks speaker series begins this month!

Dan Lieb, president of the New Jersey Historical Divers Association presents: Shipwrecks off the New Jersey Coast on Wednesday, November 16th, 7pm at the Moorestown Library in Meeting Room A
What lies underneath the dark Atlantic waters that rush along the New Jersey coast? Dan Lieb, president of the New Jersey Historical Divers Association, has dived deep into these cold, rough waters and has discovered amazing shipwrecks that reveal New Jersey's significant history. From wrecked luxury liners to sunken German U-Boats, Mr. Lieb–who has appeared on History Channel's Deep Sea Detectives–will describe what lies buried in New Jersey's ocean floor and will share the tales of courage, terror, and survival that accompany the wrecked vessels.
All speaker series events are free and open to the public thanks to a generous grant from the Elizabeth Tuttle Fund and a cooperative effort with the Moorestown Library.
Advanced registration is not required but it is requested. Click the link to the registration page:
http://www.huntcal.com/cal/eventview/moorestownlibrary/moorestownlibrary?vm=r&yr=2016&id=477599004&d=16&m=11
Other upcoming talks in the New Jersey History Speaks lecture series will trace natural and manmade boundaries to understand why New Jersey has more municipalities than California, and delve into the Garden State's property records for some personal family histories and the struggles some people have endured to own a piece of New Jersey land. More information about these talks will be provided in the near future. You may contact Michael DiCamillo of the Historical Society of Moorestown at mdicam@hotmail.com if you have any questions about the lecture series.
---
Join us for An Evening in Mo'Town!!
On Saturday night, September 17, 2016, Karla and Jim Varrell will be throwing open their historic East Central Avenue home and hosting Moorestown's most exciting gala of 2016 – An Evening in Mo'Town – a fundraiser for the highly anticipated "Pathway to History" at the Smith-Cadbury Mansion. With the help of an excellent DJ, the musical theme will be based on the other "Motown," the storied Detroit record label that provided our soundtrack to the 60s and 70s. Dance to the music we grew up with, enjoy a delicious dinner and open bar, and raise money to help get us that much closer to completing handicapped access to the History of Moorestown. And all of this for just $100 dollars a person! To purchase tickets online click here or print out the ticket form here and send us a check. To sponsor our band or caterer please click here. If your business would like to donate please click here. All donation levels are greatly appreciated! We look forward to spending a fun evening with you in Mo'Town!
---
We hope you didn't miss these Past Events:
Graham Alexander to speak at our Annual Meeting April 7th, 7:30pm at the Community House
Remembering and Reviving South Jersey's Connection to the Music Biz
Special Guest Speaker: Graham Alexander—singer, songwriter, musician, actor, and owner of the Victrola, His Master's Voice, and Victor Talking Machine Co. labels, and Little Nipper!
In the early decades of the 20th Century, the Victor Talking Machine Company and Victor Records were among the most prominent companies in the music and electronics industries. Its Camden headquarters helped the city thrive, and the company's founder, Eldridge Johnson, made his home here in Moorestown. (Johnson lived on Main Street in the home that today is the Lutheran Home.) Johnson's legacy in Moorestown is palpable. He donated large sums of money to support the town's activities, and in 1923 he donated $250,000 for the purpose of constructing the Moorestown Community House. Since the Little Nipper dog was the iconic symbol of Johnson's iconic company, Moorestown has commemorated Johnson's legacy with the many Little Nipper statues that are scattered along Main Street and other parts of town.
Like many companies in the latter part of the 20th Century, a series of mergers and acquisitions eventually moved Johnson's companies out of South Jersey. However, over the last few years, one person has been working to bring Johnson's companies back home. Join us on April 7th @ 7:30 PM inside the Moorestown Community House when Graham Alexander speaks to us about the history of these significant South Jersey brands, how he acquired the brands, and his plans for restoring the musical legacy of South Jersey.
Read more about Graham Alexander at his website:
http://www.graham-alexander.net/#latest
and about Victor Records here: http://www.victorrecords.com/
This is a free event open to the public!
---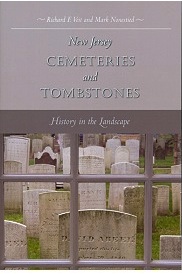 NJ History Speaker Series January 28, 2016@7:30pm
As part of its ongoing NJ History Speaker Series, The Historical Society presents Dr. Richard Veit who will discuss his book, New Jersey Cemeteries and Tombstones: History in the Landscape, on January 28 at 7:30 pm at the Smith-Cadbury Mansion, 12 High Street, Moorestown. New Jersey Cemeteries and Tombstones presents a culturally diverse account of New Jersey's historic burial places from High Point to Cape May and from the banks of the Delaware to the ocean-washed shore, to explain what cemeteries tell us about people and the communities in which they lived. Dr. Veit is an Associate Professor in the Department of History and Anthropology at Monmouth University. He is the author of Digging New Jersey's Past: Historical Archaeology in the Garden State, winner of the 2003 New Jersey Historic Preservation Award.
Free & open to the public. For more information contact moorestownhistory@verizon.net or 856-235-0353.