For past Newsletters click here
Current Newsletter: September 2017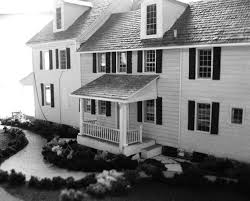 View From the Porch
A century has passed since the United States made the momentous decision to join Great Britain and the Allied forces in World War I. Throughout 2017, organizations across the nation have been commemorating the 100-year anniversary of this decision, and we at the Historical Society of Moorestown are doing the same. In addition to upcoming speaker events that we will continue to announce, our staff of volunteers are planning an exhibit that will illustrate the war's impact on Moorestown and Burlington County. The exhibit is a major undertaking. We are digging through dozens of photographs. We are scanning through reels and reels of old newspapers. We are combing through our archives of local family letters. For many of us at the Historical Society, putting together these exhibits is a major reason why we joined the organization. Resurrecting long-forgotten people and their ideas about the world around them provides such meaningful insight into past eras. Their thoughts and actions help us understand how previous generations coped with frightening change and fractured societies. We can even see a bit of our own societal pain in the material they left behind since the past never dissipates: its effects coil around us for centuries. We invite you to learn about World War I with us. Please join us on Thursday, October 5th in the Moorestown Community House's Club Room for our Fall Meeting in which we will have the opportunity to hear from Seton Hall Professor Emeritus Dr. Richard Connors who will provide an overview of World War I: a war that is commonly misunderstood. Also, keep an eye on our website and Facebook page for information about the opening of our exhibit and future guest speakers.
In addition to our World War I endeavors, we are excited to say that our Moorestown Ghost Tours will be back this fall. The Ghost Tours have become a Moorestown tradition over the years, and we look forward to seeing all of you who return every year to stroll along our town's hallowed lanes and hear the tales of specters and spirits that inhabit the homes and shops in our historic downtown. If you have not yet experienced our Ghost Tours, make this the year that you finally learn about the haunted history that lives in our town. The fall also marks the return of our Sunday house tours. The Smith-Cadbury Mansion will be open from 1 PM to 3 PM every second and fourth Sunday of the month now through June. If you have never seen the Mansion or if it has been a while since your last visit, take a Sunday afternoon stroll to our home that we take such great pride in preserving.
Lastly, while we were disappointed that construction of Moorestown's new dog park went forward without allowing local archeologists a proper opportunity to recover and remove historic artifacts from the land, we do hope that the Swedes Barn – which many of our members worked hard to restore and maintain – finally achieves more widespread recognition as a Moorestown landmark and symbol. The bucolic beauty that surrounds the barn and dog park provides a glimpse into Moorestown's agricultural and Quaker past. As we return from vacations and resume the sometimes breakneck speed of our daily lives, perhaps a walk along the paths near Swedes Barn will help us remember that we live in a town with a rich history of simple, community living, and we are responsible for maintaining that tradition.
Mickey DiCamillo, President
mdicam@hotmail.com
to view a color PDF of this September 2017 Newsletter click here.
Top right: Model of Smith-Cadbury Mansion, built by Bill Rose. Image shows north side of the house with the restored side porch.