For past Newsletters click here
Current Newsletter: March 2017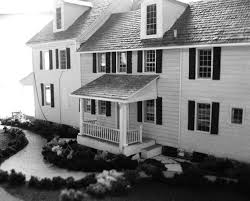 View From the Porch
This year our annual meeting will take place on April 6th. April 6, 2017 will also mark the 100th Anniversary of America's entry into World War I. (Interestingly, a similar thing happened in 2015, when our meeting fell on the 150th Anniversary of Lee's surrender at Appomattox.) Including those already serving in the military when war was declared, over 140,000 of New Jersey's finest served during the war. The federal government also established or improved upon 38 military installations in New Jersey. Among the most prominent, Camp Dix, which was a major training facility, opened in July of 1917. The 78th "Lightning" Division, which was made up of soldiers from Southern New Jersey and Delaware was activated at Camp Dix in August of 1917. Most of those from Moorestown who fought during World War I, were part of the "Fighting 78th", more specifically its 311th Infantry. The size of the Moorestown contingent serving in the Armed Forces was significant, given how small of a town it was at the time. We know from the memorial on the wall of Moorestown High School, that at least one hundred served from MHS graduates alone. The 78th Division arrived in France in June of 1918, just in time to participate in the final offensive against the Germans. After training with the British forces for two months they saw their first action in August. They fought in all of the major battles from that point on, including St. Mihiel and the Argonne Forest. Over 3,400 men from New Jersey were killed during the war including seven from Moorestown. William Snyder became the first person from Moorestown to be killed in action in any war, others who had predeceased him, both in WWI and the American Civil War, had all died from some war-related illness. Over the next few months we will be working on exhibit ideas, and on other projects in conjunction with the state and national Centennial commemoration, starting with our Annual Meeting program. Please check back on our website for details and updates.
This year's meeting will also mark my final Annual Meeting as President of the Historical Society. A new president will be installed at the April meeting. As I have said many times, we have such a great Board of Trustees, that it makes the job of being President pretty easy and I would like to thank once again the Board members, and all of our volunteers, for their hard work over the last four years.
I hope to see everyone at the Annual Meeting.
Lenny Wagner, President
to view a color PDF of this March 2017 Newsletter click here.
Top right: Model of Smith-Cadbury Mansion, built by Bill Rose. Image shows north side of the house with the restored side porch.