For past Newsletters click here
Current Newsletter: December 2017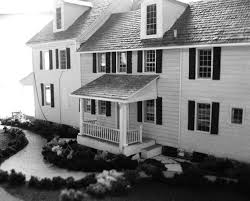 View From the Porch
Most agree that it began with the frost. The icy white grass glittering under the moonlight somehow awakened humanity in a place called No Man's Land. The first few words of Silent Night drifted into the cold air. Then, a Merry Christmas soon followed.For the British soldiers hearing these sweet sounds, suspicion was their first reaction.For six months, they toiled in muddy, dank trenches suffering repeatedly from their enemy's constant shelling. Now, the Germans were singing songs of heavenly peace. British commanders told their men to ignore the truce offering. This was certainly a trap. But, a group of British soldiers ignored their leaders. They volleyed their own Christmas Carol into the night: The First Noel. Soon, a sign went up: "You no shoot, we no shoot." And, the legendary Christmas truce of 1914 began.
Many are certainly familiar with this World War I story. It is a powerful example of the deep human desire for peace and accord. In the midst of humankind's most ghastly warfare, the people burdened with the war's brutality decided to place faith in the greater good of humanity and defied orders to maintain the status quo. Indeed, it is the story's defiance that has always struck me as seminal. Generals issued memos prohibiting friendly intercourse with the enemy. Commanders forcefully tried to restrain their men and maintain a strategic position. But the rank and file chose to unshackle themselves—even if temporarily—and release a burst of raw human spirit. Perhaps this holiday season we can exercise defiance in our own lives and show comradery with the people that we consider our enemies. Maybe it will only be a temporary truce that you offer, but even that short respite could lead to a greater understanding of someone you may regularly fail to understand.
Clearly, World War I remains on our minds here at the Historical Society as we prepare to unveil our exhibit on Moorestown's role in that horrific conflict. An interesting story is emerging from the artifacts and documents that we have collected from the period. We find Moorestonians giving generously to the war effort with both their lives and fortunes. But, we also find the town in conflict as neighbors struggle over their feelings for the war and some question if everyone in town is offering an equal sacrifice. Even after the war ends, trouble continues. Death stalks the region in the form of an epidemic flu virus that ravages Philadelphia and spills over into New Jersey. Burlington County would not be exempt from the sickness that would kill thousands across the region. This period is difficult to examine, but we hope that our exhibit helps demonstrate how every generation confronts uncertain times, and the best and worst that people have to offer are on display no matter the time period. We hope that you will visit Smith-Cadbury in the coming months to see our exhibit, and keep an eye out for upcoming events that we will be hosting throughout 2018 to further our understanding of the period.
2018 promises to be a very active year for the historical society as we are planning special events that will engage young and old alike. But, in the final days of 2017, I want to extend a special thank you to all of our volunteers, docents, and trustees that make the Historical Society a meaningful institution in the community. I also want to pay a special debt of gratitude to all of you, our members and sponsors, who continue to support the Historical Society and enable us to carry out our mission. We are thankful for all of you and wish you a special season of happiness in the weeks ahead.
Mickey DiCamillo, President
mdicam@hotmail.com
to view a color PDF of this December 2017 Newsletter click here.
Top right: Model of Smith-Cadbury Mansion, built by Bill Rose. Image shows north side of the house with the restored side porch.