It was standing room only at the Smith-Cadbury mansion on Thursday night, January 28, when author and university professor Dr. Richard Veit gave an hour-long, humor-laced historical overview of graveyards, cemeteries, and notable graves in New Jersey. The appreciative audience learned about tombstone architecture going back to the 17th century, as well as materials used (granite, clay, tiles, ceramics, concrete – even plastic).
Highlights of Dr. Veit's talk included his numerous examples of grave markers, headstones, footstones, and mausoleums that told stories about the people buried there. Some were funny: "I told you I was sick," read one tombstone. Another was somewhat humorous but sad: a tombstone for two brothers who died in 1693 noted they had both succumbed to mushroom poisoning despite repeated warnings by their elders to avoid the mushrooms. Typical juveniles! Yet another was simply tragic: one grave marker contained an epitaph to a woman who, in 1772, fell from a carriage and onto a blade she had been using to peel an apple.
Just as interesting were the personalities illuminated by their graves. There was the immodest head stone inscription informing visitors that the grave's occupant had been "The World's Greatest Electrician." A Roma cemetery featured a head stone paying tribute to a Roma couple who were community stalwarts, "Big G and Loveable Rose." Some notable celebrities are buried in New Jersey: the infamous Aaron Burr, who killed Alexander Hamilton in a duel; and Dudley Moore, the famed actor, comic, and pianist. Dr. Veit discussed African-American burial grounds and the cemeteries of different immigrant groups, such as Italians and Jews. Poignantly, he concluded by warning of the challenges that many cemeteries and grave sites face: acid rain erosion, neglect, even vandalism.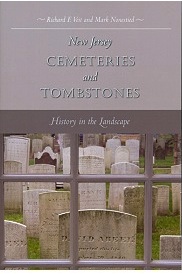 Dr. Veit, an Associate Professor in the Department of History and Anthropology at Monmouth University, based the presentation on his book, New Jersey Cemeteries and Tombstones: History in the Landscape (Rivergate Books, 2008).